Look up and breathe
An inviting sensory-friendly space where one can relax, have a seat, lay down and take a breath or two.
Tweet
Share
Breathing Room is meant to be a space for pause in an otherwise highly active environment. Opening in two phases, the first phase of this installation (now open) features intricate knitted sculptures made of repurposed T-shirts that move and hang from the ceiling. Its rhythmic up and down movement replicates breathing cycles, reminding us to look up, slow down and focus on our breath.
The second phase will include additional hand-knitted pods called "puddles" and weighted sweaters called "hugs" to create opportunities for calming comfort and provide a sense of security. Phase two will open in September 2022.
Help support the completion of phase two by giving a gift today!
Phase One
Knitted trumpet sculptures hang from the ceiling and move to mimic breathing cycles.
Phase Two
Knitted pods called "puddles" provide opportunities for children and families to cocoon.
Who Made This?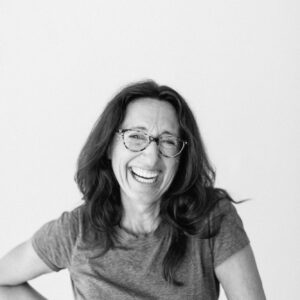 Michelle Montjoy

born

1959, Houston, TX

lives in

Oceanside, CA

artist
Michelle Montjoy is an Oceanside-based artist who works in a combination of installation, textile, sculpture and socially-engaged practices. A former public school art teacher, her work approach is based in humor, generosity and sustainability. Her work has been shown at MCASD, Art Produce Gallery, San Diego International Airport, Oceanside Museum of Art, Athenaeum Music and Arts Library and others. Blue Feeney assisted Montjoy on this project, along with consultation from a sensory specialist, Xenia Sholl.