a giant hammock with big impact
A visually stimulating array of bright, hand-dyed, hand-braided nylon rope crocheted into a large-scale, three-dimensional, climbable sculpture.
Tweet
Share
Our newest commissioned art installation is an interactive, three-dimensional textile environment of colorful crocheted hexagons, open pockets and hanging pendulums. Children are able to move upwards through one pocket after another until they reach a colorful expanse where they can run, slide, bounce and rest. The rhythmic motion evokes the sensation of floating in a swelling sea, stimulating the deepest part of the brain and engaging the child's sight, touch, movement and balance.
Video
Whammock!
Learn about Toshiko Horiuchi MacAdam's inspiration for Whammock! and see our newest installation in action!
Fun Facts
- 28' wide x 20' long
- 14 hand-dyed colors
- 5 hanging pendulums
- 40 miles of braided nylon
- 8 entry holes
- 3,600 hours to construct
- 1,000 pounds of net
- 2-ton capacity
- 3,835 miles net travelled
- 1 of 3 in the U.S.
"Whammock! at The New Children's Museum reflects MacAdam's passion for building interactive art for kids."
Who Made This?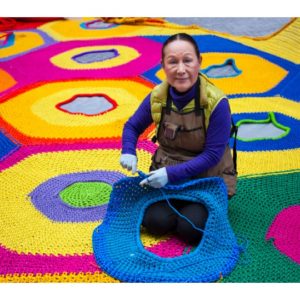 Toshiko Horiuchi MacAdam

born

1940, Japan

lives in

Nova Scotia, Canada

artist
A leading fiber artist in Canada and Japan, Toshiko Horiuchi MacAdam is internationally renowned for her use of knitting, crochet and knot-making techniques and best known for her climbable large-scale textile structures. She was inspired to create textile playground spaces after children climbed into a three-dimensional textile sculpture that she was exhibiting. Her playscape structures are made almost entirely by hand and each is one-of-a-kind with past exhibitions at institutions such as the Museum of Modern Art in New York City; the National Museum of Modern Art in Kyoto, Japan; the Palais de Congrès in Paris, France; and the Tokyo Metropolitan Art Museum in Tokyo, Japan. Toshiko's Kaleidoscape at Kaleideum in North Carolina is her only U.S. installation prior to Whammock!
this installation is made possible by